"eye-popping imagery, thought-provoking metaphor and unvarnished dancing in a brilliant, seemingly effortless union"
Times Union, Albany
Artists' Talk
Art Bridgman and Myrna Packer explain their choreographic process and its integration with video technology. Including slides and video excerpts, they describe the history and development of their unique concepts of Video Partnering and demonstrate their use of green screen technology, Final Cut Pro, and live camera stage set-up. A performance of an excerpt of their repertory and/or audience participation in a short demonstration of live camera work can also be included.
Required: a dance studio or theater space that can achieve a visual blackout, appropriate set-up time and technical assistance to be discussed with presenter.
Video Playground (Interactive Video Installation)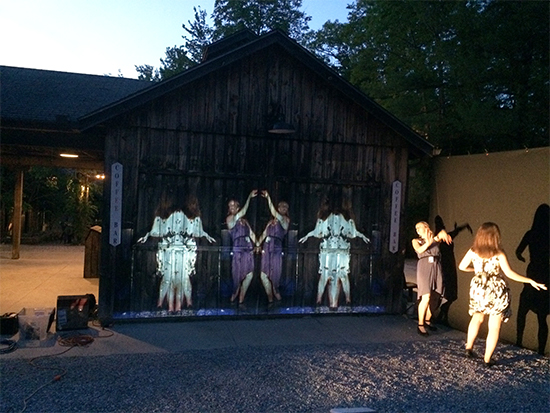 Interactive Video Installation at Jacob's Pillow Dance Festival 2016
This engaging interactive installation invites participants of all ages to experience the magic of Bridgman|Packer Dance up close and personal. Video Playground allows participants to play with scale, juxtaposition of shadow and video imagery and to explore the duality and morphing of self and image. This live interactive installation can be projected in public spaces – bringing to life the architecture in a community and new meaning to familiar places.